The Modeller's Miscellany #105
"The key is in not spending time, but in investing it"
Stephen Covey
---
Podcast
Why work/life balance is a myth
If you're struggling to achieve the elusive "work/life" balance, check out this episode of the Manager Tools podcast. They argue that the whole concept of work/life balance is a myth and that we've all been solving the wrong problem. You can't, they say, put into balance two things which are of such widely different levels of importance without breaking at least one of them. Listen here.
Article
Financial modelling on Mac – the missing ribbon shortcuts
One of the biggest frustrations of using Excel for Mac is the lack of ribbon shortcuts. Accelerator Keys is a Mac app that aims to fix that. And it very nearly does. But frustratingly doesn't quite hit the mark. Read my review here.
Book
Iceland's Secret
Jared Bibler relocated to Iceland in 2004 and found himself in the middle of an unprecedented financial crisis shortly after. He became the lead investigator into what happened in Icelandic banks before, during, and after the crash. This book tells the story of what happened inside those banks. A well-researched and insightful cautionary tale. Read more.
Self-awareness
How black and white is your thinking?
This short "Thinking in colour" test looks at your empathy, open-mindedness, flexibility and intellectual curiosity. The visualisation of your results starts off as a white blob, and as you answer questions colours are added or subtracted and the blog changes brightness. Nobody wants to be a white blob. Take the Thinking in Colour test here.
Documentary
Particle Fever
This documentary tells the story of Peter Higgs, the theoretical physicist who predicted the Higgs particle in 1967. It took 45 years until the technology was able to test the theory. In 2012, when scientists at CERN were finally able to run experiments to detect the particle, 80-year-old Higgs was able to see it. You'll need some tissues for that moment. Watch here.
Modeller's Miscellany Jobs
If you have a financial modelling related position you'd like us to include, please email miscellany@fullstackmodeller.com.
Associate Director (Financial Modelling) – Teneo – London, UK
Head of FP&A – STOIX – London, UK
Financial Analyst – JLL – Chicago, USA
Senior Financial Analyst – Bunzl Distribution NA – Compton, CA, USA
Financial Analyst – Cisco – Cracow, Poland
Financial Modeller – Randstad Australia – Melbourne, Australia
And finally… Vacation time visualised
I'm off on leave for the next two weeks. Giles will be doing a Miscellany takeover while I'm gone. Here's what my next couple of weeks will look like.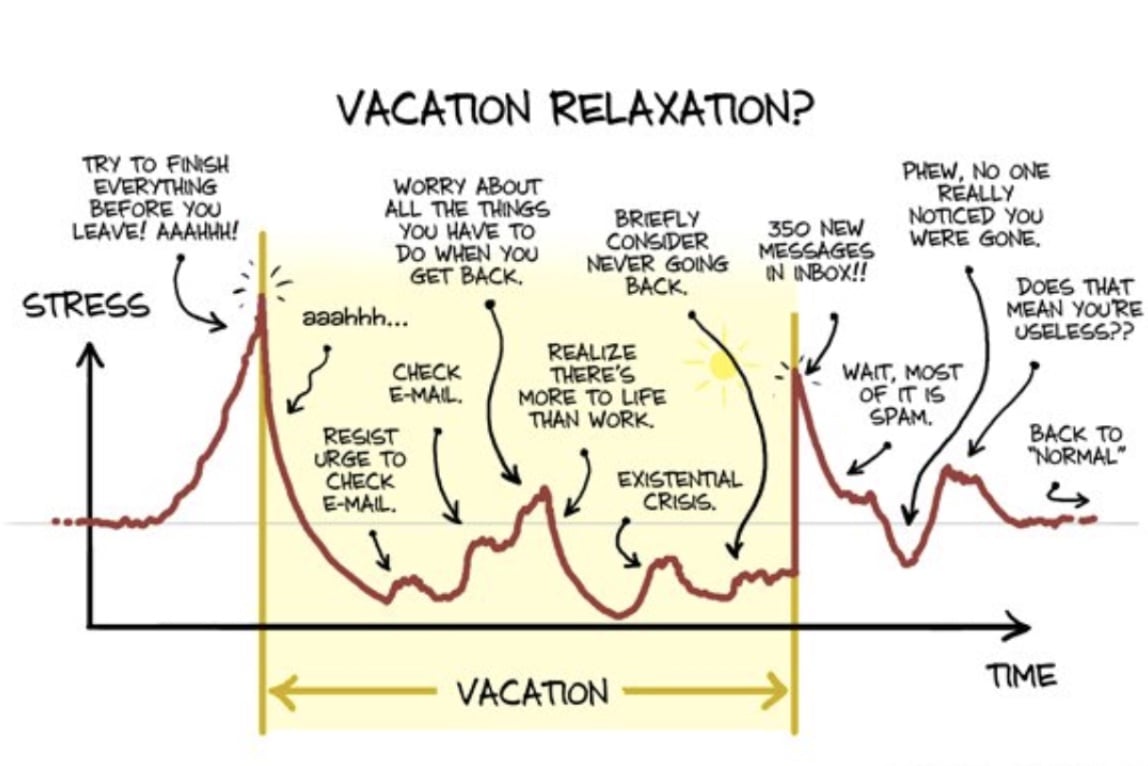 This week's Miscellany was curated and edited by
Kenny Whitelaw-Jones.