The Modeller's Miscellany #112
"Good books are over your head. They wouldn't be good for you if they weren't."
- Charles Van Doren
---
Spreadsheet History Part 1
My spreadsheet doesn't do that
This 1980s Excel ad is just great. It's a reminder of how revolutionary spreadsheets were at the time, and how much more we expect of them now. Thanks to Ben Johnstone for sharing.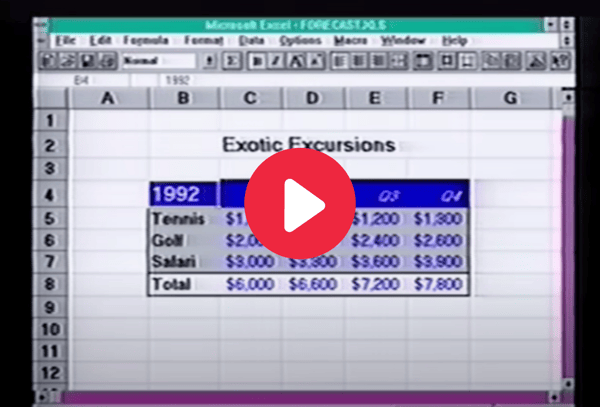 Spreadsheet History Part 2
Lotus 123 for Linux
Warning: this is off the charts geeky. Tavis Ormandy is a vulnerability researcher at Google. He describes himself as a one man Lotus 123 enthusiast community. He recently managed to get Lotus 123 running natively on Linux, which is quite impressive given that Linux didn't exist when Lotus 123 was released. This has zero utility, but is a cool project. Read his post about it here.
Event
The GENCFO Summit
The countdown has begun! On Wednesday 8th and Thursday 9th June 2022, over 50 disruptors transforming the digital finance function will reveal their cutting-edge strategies at the GENCFO live Summit.

Don't miss out on over 20 hours of CPD Accreditation, industry leaders from Secret Escapes, Johnson Matthey, Very, Getir and more, and talks on topics that matter including ESG, diversity and the future of finance.

As Miscellany readers you can follow this link to take advantage of a 25% discount on the Gold Ticket option for the Summit.
Excel Update
Microsoft is removing money in Excel (and other features)
Microsoft introduced 'Money in Excel' back in 2020, which allowed people to connect their financial data to Excel sheets. Now the functionality is being discontinued, alongside a few other Microsoft 365 features. Read more.
Tools
Visual world clock
Scheduling meetings across time zones can be challenging. This world clock does the best job I've seen so far of showing the time in multiple time zones. You can configure it to include the cities you need to see. Very useful.
Health
Aging clocks
Sticking with the theme of clocks, ageing clocks were selected by the readers of MIT's Technology Review as being one of the top technological breakthroughs of the year. The big idea behind aging clocks is that they predict how many healthy years you have left. Most do this based on patterns of epigenetic markers—specifically, chemical tags called methyl groups that are layered onto DNA and affect how genes are expressed. Read more here.
Modeller's Miscellany Jobs
If you have a financial modelling related position you'd like us to include, please email miscellany@fullstackmodeller.com.

Financial Data Modeller - Legal & General - Cardiff, Wales
Senior Financial Modeller - M7 Real Estate Ltd - London, England (Hybrid)
Analyst, Financial Modeler - BlackRock - New York, USA
Junior Database Modeler - Kforce Inc. - Coral Gables, FL, USA
Data Modeler - Modis - Sydney, Australia
And finally…
Planes and dogs are two of my favourite things. And so here's a video of a weightless dog during a zero g pushover.