The Modeller's Miscellany #96
"I do love email. Wherever possible I try to communicate asynchronously. I'm really good at email."
– Elon Musk
---
Visualisation
Web seer
Is there a way to visualise people's innermost thoughts? Google's autocompleting suggest feature lets you see what others are asking when they search the web. From the existential to the mundane, the questions form a portrait of human curiosity. Fernanda Viégas and Martin Wattenberg are leaders of Google's data visualisation research group. Their WebSeer tool lets you compare two search terms and see how they overlap and differ. The image below shows the visualisation of "why doesn't he" compared with "why doesn't she", with the arrow thicknesses showing the number of web pages for each question. Try it live here.
Check out the pair's other visualisations like this beautiful real-time map of US winds.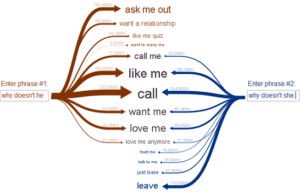 Work
How to fix email… with science
Many people think that email is a broken piece of the modern world that we've yet to ditch, despite the rise of workplace IM apps like Slack and Teams. Two researchers have uncovered one simple technique for reducing inbox dread: return email to its asynchronous roots. Read more.
Finance
The financial engineering magic of Buy Now Pay Later
There has been a rapid spread of online retailers offering "Buy Now Pay Later" options from companies like Klarna. This article explains how these companies manage to create a high-interest consumer loan without charging the customer a penny more than their purchase originally costs.
Events
Global Excel Summit
Full Stack Modeller will be exhibiting at the largest gathering of professional Microsoft Excel users in the world and we would be thrilled to see you there! The Global Excel Summit will leave you with fresh tools, insights, and inspiration to make 2022 the year you excel to new heights. The virtual event is powered by Hopin and crafted by DATEL Productions in collaboration with Leila Gharani. Full Stack is also a track sponsor of this year's summit. Get your ticket now.
Data
19-year-old builds an Elon Musk flight tracker Twitter bot
19-year-old Jack Sweeney turned down an offer of $5,000 from Elon Musk to take down @ElonJet, a Twitter bot, that uses publicly available data to create notifications of where Elon Musk is traveling in his private jets. "I've put a lot of work into it", said Jack."$5k is just really not enough." Read more about how he pieced together publicly available flight plan data to make it work. His other bots include @GatesJets, @BezosJets, and @TrumpJets.
Modeller's Miscellany Jobs
If you have a financial modelling related position you'd like us to include, please email miscellany@fullstackmodeller.com.
Featured:
And finally…
This has been widely shared on socials in the last couple of weeks. I'm having this framed and hung over my desk as my new decision-making protocol for taking on new projects.